Berita
Stranas PPK dan Upaya Pencegahan Korupsi di Daerah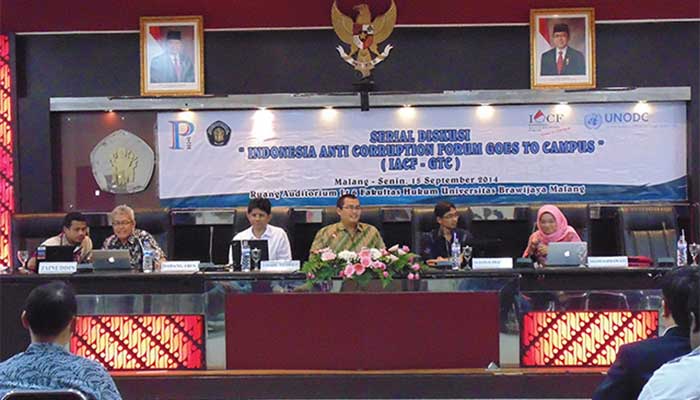 Malang, 15 September 2014Bertempat di Auditorium Lt VI Fakultas Hukum Universitas Brawijaya Malang Pusat Pengembangan Otonomi Daerah (PPOTODA) bekerjasama dengan UNODC menggelar Serial Diskusi Nasional dengan tema Indonesia Anti Corruption Forum Goes To Campus (IACF-GTC).
Pada serial diskusi tersebut mengangkat tema, "Stranas PPK dan Upaya Pencegahan Korupsi di Daerah" Dalam sambutannya perwakilan UNODC Indonesia Office Monica Tanuhandaru menyampaikan apresiasi kerjasama yang menggandeng PPOTODA Universitas Brawijaya.
Dalam paparan singkatnya beliau menyampaikan pula bahwa Komitmen Pemerintah Indonesia untuk memberantas korupsi bersama-sama Negara-negara di dunia dibuktikan dengan meratifikasi Konvensi Perserikatan Bangsa-Bangsa Menentang Korupsi (United Nations Convention Against Corruption UNCAC 2003) melalui Undang-Undang Nomor 7 tahun 2006. Sebagai Negara peratifikasi, Indonesia wajib mengimplementasikan ketentuan UNCAC secara penuh. Dr. Sihabuddin SH, MH selaku Dekan Fakultas Hukum mengucapkan terima kasih atas kepercayaan UNODC menjalin kemiteraan dengan Universitas Brawijaya. Beliau berharap bahwa kedepan materi perkulian anti korupsi dapat dimasukkan dalam setiap pembelajaran bagi mahasiswa-mahasiswi di kampus.
Acara tersebut dihadiri oleh narasumber yang berkompeten antara lain Dr. Diani Sadiawati SH, MH Direktur Analisa Peraturan Perundang-Undangan Kementeriaan PPN/Bappenas, Dadang Trisasongo Sekjen TII, Laode Syarif Phd Senior Advisor Justice and Environment Partnership, Ngesti D. Prasetyo dan Zainuddin.
Bagi PPOTODA acara ini memiliki peran strategis dalam rangka bersinergi untuk mengaktifkan gerakan civil society yang kian melemah karena praktek-praktek transaksional di daerah. Selain daripada itu kegiatan ini sangat baik untuk lebih meningkatkan berbagai upaya pencegahan dan pemberantasan korupsi yang sejalan dengan UNCAC, Pemerintah Indonesia telah berhasil menetapkan Strategi Nasional Pencegahan dan Pemberantasan Korupsi (selanjutnya disingkat Stranas PPK) melalui Peraturan Presiden No. 55 Tahun 2012 tentang Stranas PPK Jangka Panjang Tahun 2012-2025 dan Jangka Menengah Tahun 2012-2014.
Strategi yang tertuang dalam Stranas PPK mengacu pada strategi-strategi yang ditetapkan dalam ketentuan UNCAC, meliputi 6 (enam) strategi yaitu (a) pencegahan; (b) penegakan hukum; (c) harmonisasi peraturan perundang-undangan; (d) kerjasama internasional dan penyelamatan asset hasil tindak pidana korupsi; (e) pendidikan dan budaya anti korupsi; dan (f) mekanisme pelaporan.
Stranas PPK diimplementasikan melalui berbagai Aksi Pencegahan dan Pemberantasan Korupsi (selanjutnya disingkat Aksi PPK) setiap tahun oleh Kementerian/Lembaga dan Pemerintah Daerah. Hingga saat ini, telah dilaksanakan tiga tahapan Aksi PPK yang dilaksanakan yakni, Aksi PPK 2011 berdasarkan Inpres No. 9 Tahun 2011; Aksi PPK 2012 berdasarkan Inpres No. 17 Tahun 2011; serta Aksi PPK 2013 berdasarkan Inpres No. 1 Tahun 2013 dan Inpres Nomor 2 Tahun 2014.
Dari tahun ke tahun, Aksi PPK semakin masif, karena melibatkan semua Kementerian/Lembaga dan Pemerintah Daerah (Provinsi/Kabupaten/Kota) namun tetap memprioritaskan aksi-aksi yang paling dirasakan oleh masyarakat dan stakeholder terkait untuk segera diperbaiki dan/atau ditingkatkan kinerjanya dengan lebih akuntabel dan transparan.